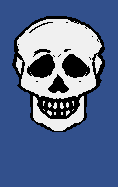 WHA HA HA HA HA !
WE'VE FOUND THE ENTRANCE
AND HAVE SEALED IT! AND YOU'D BETTER
NOT TRY TO FIND A DIFFERENT WAY IN!
NOW WE WILL RULE THE WORLD!
WHA HA HA HA HA !
SINCERELY,
THE BAD GUYS
P. S. DOCTOR CHESS IS NOTHING BUT A BIG PAIN IN THE NECK SMART ALECK!